Another quick little look at corsets from 1908.

This first example would have been quite risqué at the time and i find it interesting that American advertisements, even if showing essentially the same things, would not show petticoats around the ankles. and especially not around the ankles of an actress!
AESTHETIC-CORSETS by GERMAINE DELAGE
Nothing can better name these two marvelous creations. One, so ingeniously contrived to flatter the hips, and worn with so much grace by Mlle Destrelle, of Vaudeville. The other, with its brand new Mai 'ot Pekiné fabric (input on this translation welcome), which slims Mlle G… V… so perfectly, of Capucines.
Patented S.G.D.G.
9, rue de la Paix PARIS

Interestingly, this address was on one of the most fashionable streets in Paris, and the address was shared with the BOUÉ SOEURS, one of my favorite design houses.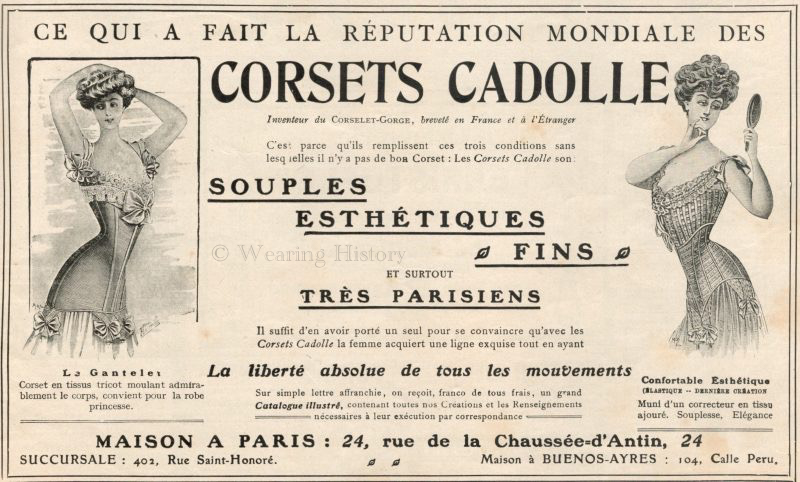 WHAT HAS MADE THE WORLD REPUTATION OF CADOLLE CORSETS Inventor of the CORSELET-BRA, patented in France and abroad.
This is because they fulfill these three conditions without which there is no good Corset: Les Corsets Cadolle with:
FLEXIBLE
FINE
AESTHETICS
AND ESPECIALLY VERY PARISIAN.
It is enough to have worn only one to be convinced that with the Cadolle Corsets the woman acquires an exquisite line while having absolute freedom of all movement.
On simple frank letter, we send, free of all costs, a large illustrated Catalog, containing all our Creations and the Information necessary for their execution by correspondence.

On the left: The Ganteler Corset in tight knit fabrics for the body, is suitable for the princess dress. (The princess dress was a dress without a waistline, so the long line is ideal for that style.)
On the right: Comfortable Aesthetics ELASTIC LAST ORRATION Corset. Fitted with an openwork fabric corrector. Flexibility, Elegance
HOUSE IN PARIS: 24, rue de la Chaussée-d'Antin, 24
BRANCH: 402, Rue Saint-Honoré
House in BUENOS-AYRES 104, Calle Peru,

This concept of the corset-bra is quite fascinating. I hope that as our research progresses that we are able to find more descriptions of this corset concept.