Hooray!  A finished project!
I just love the 1930s. It feels good to get back to sewing one of my favorite decades of fashion.
This was one heck of a project.  All sorts of crazy things went wrong, but I feel victorious posting these photos.  I did not let the dress beat me!
For this project I started with a vintage 1930's fabric I bought at a vintage sale several years ago.  I had been holding onto it, waiting for the perfect opportunity to make a pleated beach resort style 1930's dress.  When I found the theme for February for the Historical Sew Monthly was "Tucks and Pleating", it felt like the perfect opportunity to make it happen!
I settled on this pattern. But…

When I pulled out my fabric it was suspiciously full of holes!  NO!!  These were probably in it when I bought it, and I just didn't realize it.
So I went to another plan and picked another bodice to use, since I could not cut all the lovely pleats I had envisioned.
But it was late, and I cut the bodice two sizes too small, confusing it with another alternate bodice I was thinking of using.
I was so mad!  I gave up for the day.
But the next day I got up and was determined to make it work.  I had *just* enough fabric to add a few slivers at the underarms.
Ta Da! It worked!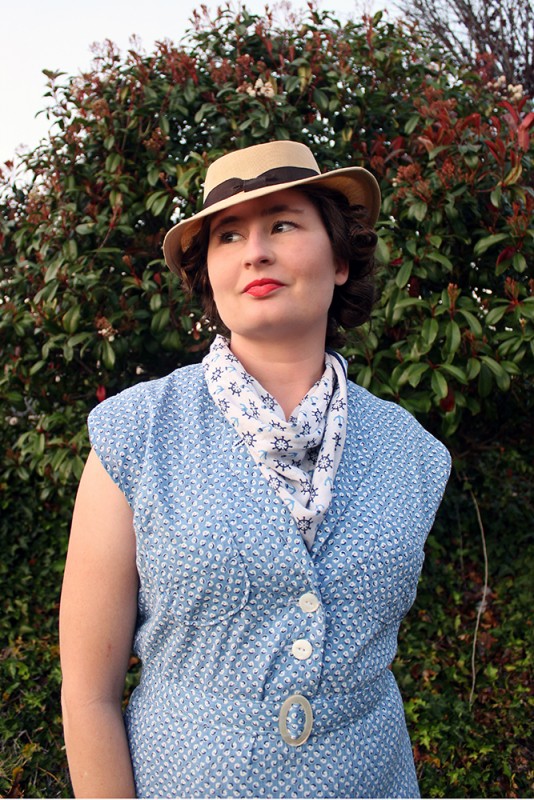 Here's the info for the Historical Sew Monthly
What the item is: 1930's Dress with Pleated Back
The Challenge: Tucks and Pleating
Fabric/Materials: Vintage 1930's Cotton
Pattern: A mix match of two vintage patterns by McCall
Year: 1935
Notions: Vintage shell buttons, snaps, hooks and eyes.
How historically accurate is it? 99.75%.  The only thing I did differently was use polyester thread, since that's what my machine prefers, and buttonholes with my automatic buttonholer.  Oh, and the belt was interfaced with fusible interfacing.  Everything else, from seam finishes to fabric to pattern are authentic to the 1930's.
Hours to complete: Probably around 6.
First worn: Today for pictures!
Total cost: I didn't keep track, but if I count a vintage pattern, most likely around $60.