Hurrah!  New pattern just in time for warmer weather!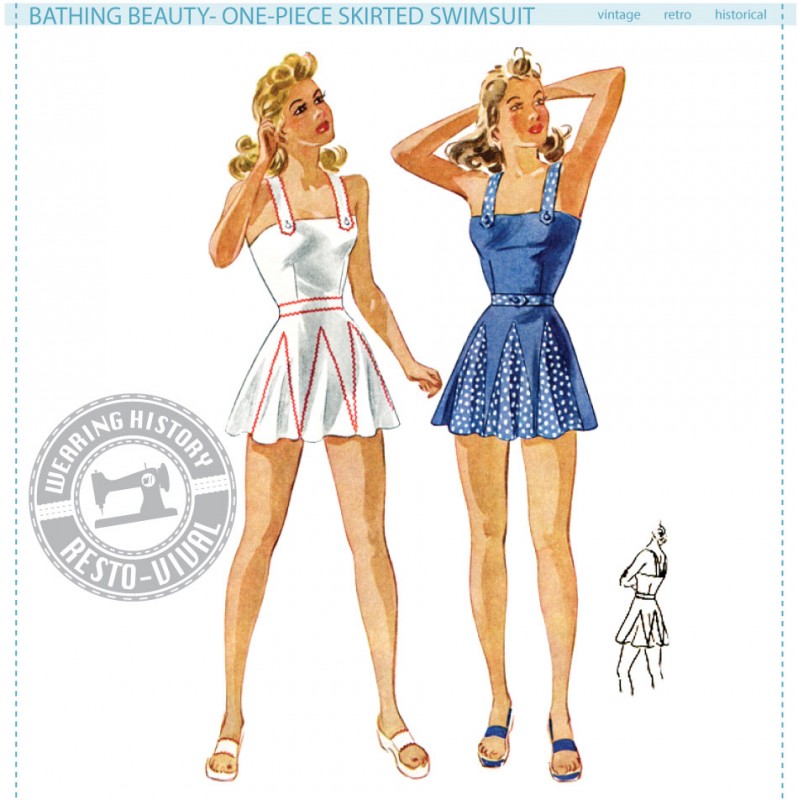 You may recognize this as a previous pattern. It was, in fact, one of the very first ones I made when I started making patterns available some five or so years ago.  It's been discontinued for a while, but it's been all reformatted and it's now available again, with improvements over the last time. :)
I sewed myself a sample and just took some photos, too!
If you're on the fence, this is super cute made up, and you can wear it as a playsuit if you don't want to wear it in the water.
I made mine out of cotton chambray.  Nice and cool for warm weather, but not the best choice if you want to actually swim in it.

This has shorts built in underneath it.  Both the shorts and skirt are attached to the waistline, so it's all one piece.  The original calls for jersey fabrics for the shorts (that's stretch), but you can make them in wovens if you want to- though it may require a bit more fitting and some alterations.  I had no need of alterations, and my measurements are quite close to those for the size I cut.
Got a great excuse to break out one of my favorite vintage hats.
And my fancy sunglasses! Yay!
Hope you love the new pattern!
You can order them now for 20% off as a special introductory offer.  The printed patterns will start shipping next week, or you can get the e-patterns now if you're anxious to get sewing.
Reminder that EU residents can purchase the e-patterns from my Etsy shop (my website isn't able to sell e-patterns to EU residents, though you can buy the printed pattern through there!)