Hi Everyone!
I want to let you in on where we are in the process!
Firstly, I have good news! I picked up  the FINISHED FABRIC for the Maisie Dress, the Norma Jean Blouse, and the Scarf/Turban today!!!  We can get in queue for those to get made now that we finally have the finished fabric in hand.  I'm not quite sure as to the estimated date I'll get them back, but I'm really hoping to get these back around the middle of next month.  Thank you so much for being so patient with those garments!
And for photo proof..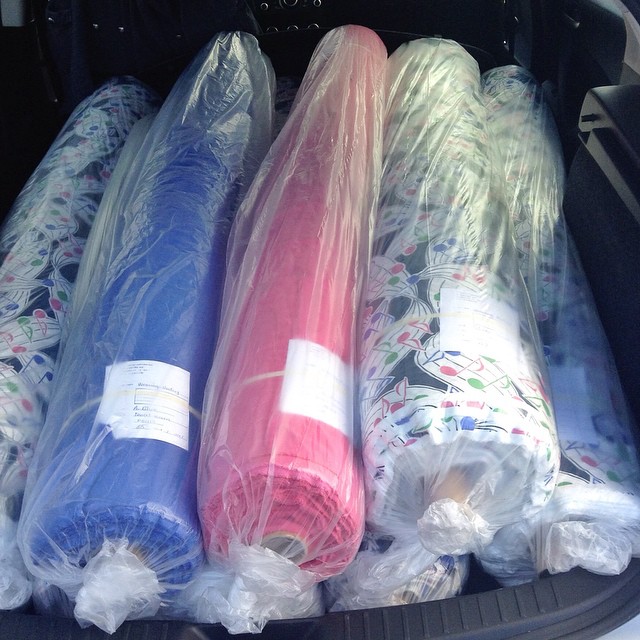 Secondly- we've gotten the first finished garments back!! HURRAH! I picked up the finished Ruthie Blouses and Victoria Dresses today! I will start shipping those this week, to people who pledged for those items alone.
So my little car has done a lot today.  Here's boxes of finished garments plus other things I picked up
Thirdly, because it's come up a few times- I need to clarify something. Because shipping was complimentary as a perk of the Kickstarter, that means that if you ordered a package with more than one item, your rewards will ship when ALL items for your reward are finished and in hand. So, say, we shipped out tote bags a few weeks ago, but if you ordered a tote bag and scarf, we're still in process on the scarves, so once those are finished the two will be shipped to you together. Hope that makes sense :)
Let's see… what else… I've been running around like a crazy lady since the Kickstarter ended, so I know there's much more!
Ah!  The Smooth Sailing Trousers are currently being made.  And, because I heard feedback, I have added more sizes.  So you can find sizes 24″-32″ waist here, andsizes 34″-40″ waist here on my website.  I have very limited amounts of the larger sizes available, so if you're interested I suggest pre-ordering :)
And lastly for now, I now have tee-shirts available on my website!  Even though we were over the initial kickstarter goal, we did run over budget, so these tees were created to help us get over the little road bump (which I hear is quite normal for starting something like this!).  We have both the WHC Eagle, and the Wearing History Clothing palm label available.  These tees were made in the USA, printed at a local indie screen printer, and use eco-friendly inks.  Plus, they're super soft and comfy and come in Women's sizes Small-2XL.  I have men's ones, too, but haven't had a moment to get those on the site yet.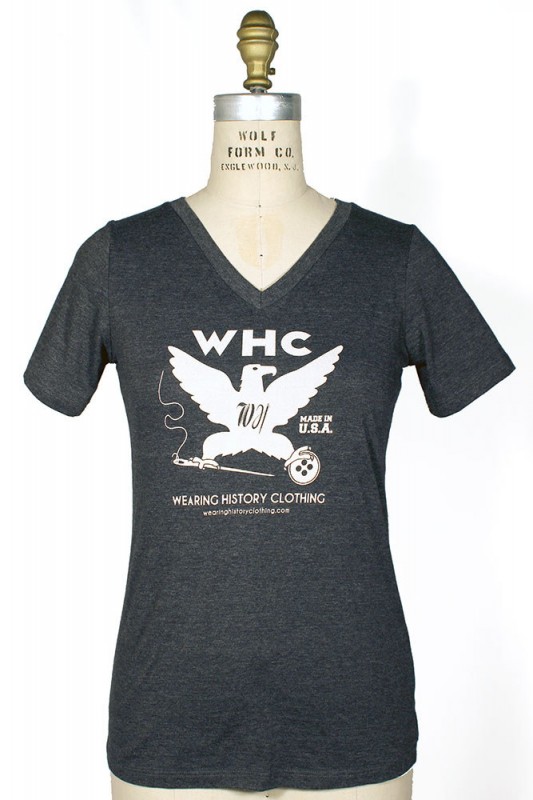 As always, if you have any questions or concerns, please let me know!
Thanks, all!
Love,
Lauren