Welcome to the Suit-a-Long!
Well, whether or not you're participating, you get to see my posts if you're subscribed to my blog.  Buahaha.
What's the Suit-A-Long?  
I JUST finished up and released the 1910's Suit Pattern.  This pattern was based on an original that appeared in a 1916 issue of McCall's Magazine.  You can see it below, at center.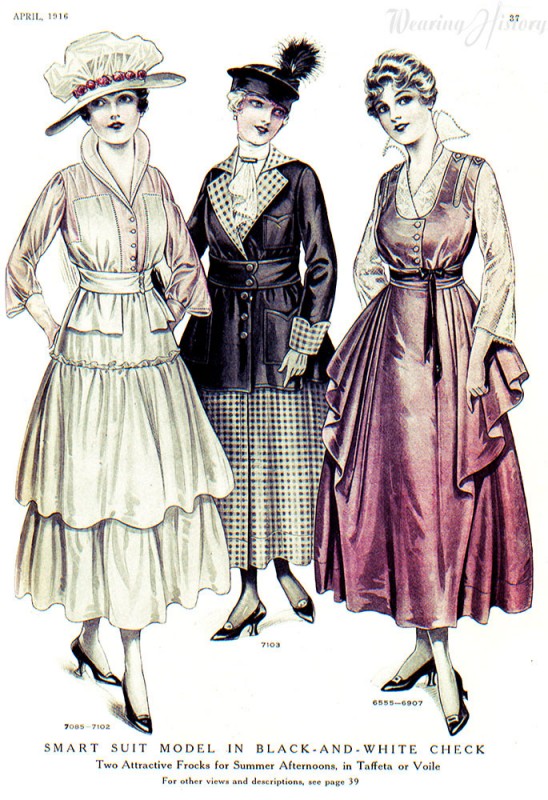 Why a Suit-A-Long?
The pattern I just released is based on an original vintage pattern from 1916.  If you've ever seen original patterns of this era, they can be pretty intimidating!  Most of the instructions, if not all, are text only and are pretty sparce. The pieces can be a bit of a puzzle to figure out.  BUT they make up into such nice, period correct garments, that I thought this would be the perfect way to "dive in" and help you understand how to break down and use an original vintage pattern.
It's not all 100% to the period, though.  Sometimes patterns of this era were sketchy- some pieced didn't fit together right, the dots were on the tissue and hard to figure out- I've eliminated some of this guesswork by making multiple mock ups of the pattern and correcting it beforehand, as best I could.
You also don't have to rely on one single size, since original patterns of this era came in only one size per packet, in unprinted tissue paper with holes (called "dot perforations") for markings.  Instead, I've graded and multi-sized this pattern, and all sizes are nestled together on a big printed pattern sheet.
The mix of the old and new makes this a great pattern to use to become acquainted with the way older patterns worked, which is why this Sew-A-Long was started!
What pattern do I order?
Well, let's break it down.  You've got choices.  I've done this both as a printed, mailed pattern (printed on 36″ wide bond paper), or as  a print-at-home pattern.
Do you want to make both the skirt and jacket?   Buy the pattern for the suit. Both pieces are included, and the price is cheaper than if you bought the skirt and jacket individually.
Do you only want to make the skirt or jacket?  Not a problem!  You can buy either one on their own, in print or in e-pattern form.
What's the difference between a print and e-pattern?
The mailed, printed pattern is just that.  I get them printed, I package them up, and then I mail it to you.  You get a 36″ wide print on hearty bond paper in the mail.
The pros?  No cutting and taping required!  No printing on your end.  Once you get it, you can get started.
The cons?  The price up front is a little higher, and there's a postage cost.  You have to wait to receive it in the mail.
The E-Pattern is a Digitally Downloaded Pattern.  You download the files to your computer then print them out yourself at home.
The pros?  Instant gratification.  As soon as your order is marked as "Completed", you download the pattern, print it at home, and you can get started the same day.  The cost of buying the pattern from me is less than the printed pattern cost.  And no postage fees!  Plus, if you find your size goes up or down in the future, you can just print it out again and cut another size.
The cons?  You do have to print them all out yourself, and it is a pretty hefty pattern.  If you want to make the skirt and the jacket, there's nearly 100 pages to print out at home.  After that, you need to cut and tape the pages together before you can get started.
Got more questions about e-patterns?  Make sure you read the product description page well.  If you are new to using them, The Dreamstress did a great tutorial on her blog using one of my e-patterns as an example of how to print and tape one together, so make sure you go check it out!
What Size Do I order?
Lucky you!  My newer patterns aren't broken down into smaller size packs anymore, so all sizes are in the same multisite pattern.  This pattern includes all sizes originally made in this pattern.  Here's a size chart:
| | | | | | | | |
| --- | --- | --- | --- | --- | --- | --- | --- |
| Size     | 34   | 36   | 38   | 40   | 42   | 44   | 46 |
| Bust | 34 | 36 | 38 | 40 | 42 | 44 | 46 |
| Waist | 24 | 26 | 28 | 30 | 32 | 34 | 36 |
| Hip | 37 | 39 | 41 | 43 | 45 | 47 | 49 |
We'll go more into choosing what size to cut in the next post.
Is your waist larger than the sizes given? No problem!  I'll show how easy it is to re-size the skirt in a future post, too!
Ready to order?  You can find all the print and e-pattern version of this pattern on this page of my website.
Hope you'll join us!