Yay! Two finished projects!
I jumped on the bandwagon to knit a sweater (jumper) with Tasha's "Knit for Victory" knit-a-long.  I used a vintage PDF download from VanessaLovesVintage on Etsy, for the Aloha Sweater.
I'm not the most patient knitter, and I was being exceptionally cheap, so used whatever baby yarn was on sale at the craft store.  That being said, it's all acrylic, and, while it was cheaper than wool, I really wish I had just bought a good yarn, after all the time I took.  And, being baby yarn, I had only pastel colors to choose from, which aren't my normal color palate.  I also used needles larger than called for and so the knitted stitches were 2/3 what they were usually.  I'm not good at math, so I'm kind of surprised I didn't mess this up!  A co-worker at my last job gave me hints on what to do (that's how long ago I started, right after the challenge was announced!  I'm slow), which is the only way I figured it out!  I decided to omit the sleeve puff pads, because I thought they looked silly.
The color palate actually worked out perfectly, though, because my brand new to me vintage hat matches perfectly!  I never thought I would be a "pink" girl, but I love my new hat.  It's from Bullock's Wilshire, and inside is stamped "Kitten Fluff", and it's fuzzy, with topstitching.   And lucky girl that I am, I found this one AND a bright absinthe green color one at the same time, and the same model hat.  I just have to figure out something to go with that one.  So, true, they probably would not have worn a hat with an outfit like this, but I don't care.  I wanted to wear my new hat :)  I really love how the sweater came out, too!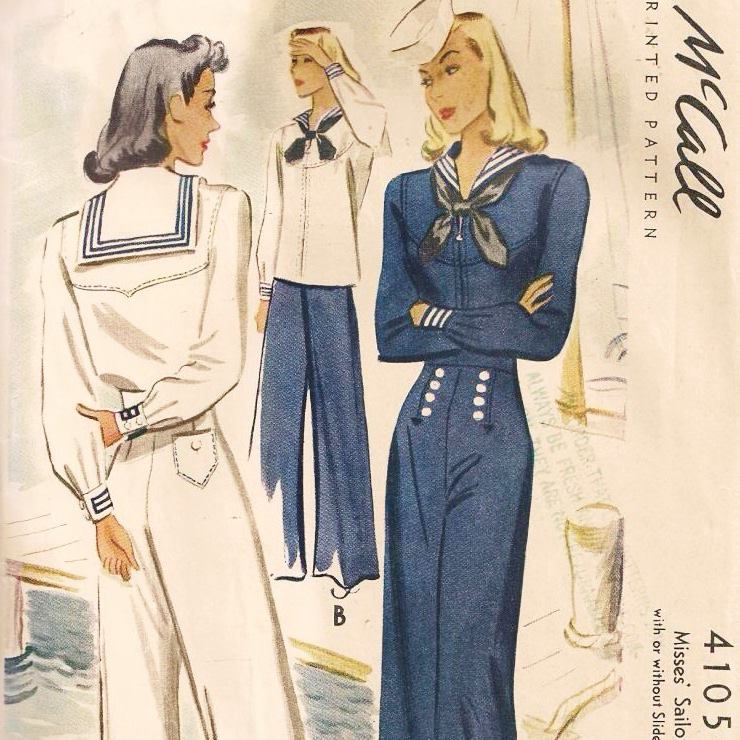 My trousers I made from this pattern.  This pattern had been on my wish list FOREVER, until I finally got in a bidding war over it a few years ago and won.  I was pretty sad, when I actually got the pattern in my paws, when I realized the pattern wasn't really for drop front trousers, but just fastened up the side with a slide fastener, and had buttons accenting darts at the front.  Bummer.  I had patterns that would have worked for that already.  But the cover art is SO pretty, and I have a pretty big weak spot for vintage McCall patterns.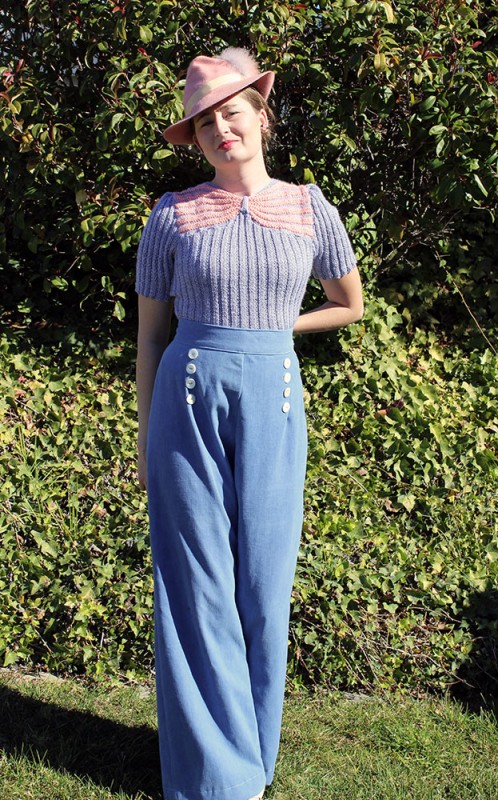 I was a really naughty girl and didn't make a mock up, and, because of this, I'm not happy with how they fit.  They're too big in the waist (see, I'm holding it in the pics to look better. LOL!), and too saggy in the butt, but- you may not believe it, but before I wore these for the first time, after they were assembled, I frantically took one inch out of the center front seam in the middle to nothing at the waist and crotch, and two solid inches out of the back in the same way.  And it's STILL too saggy in the butt.  But I do know that's what you get with real pants patterns from the 30's and 40's. (If you want a mid-point pattern, try my Smooth Sailing, because they've got the vintage look without the excessive bagginess that plagued early trouser patterns).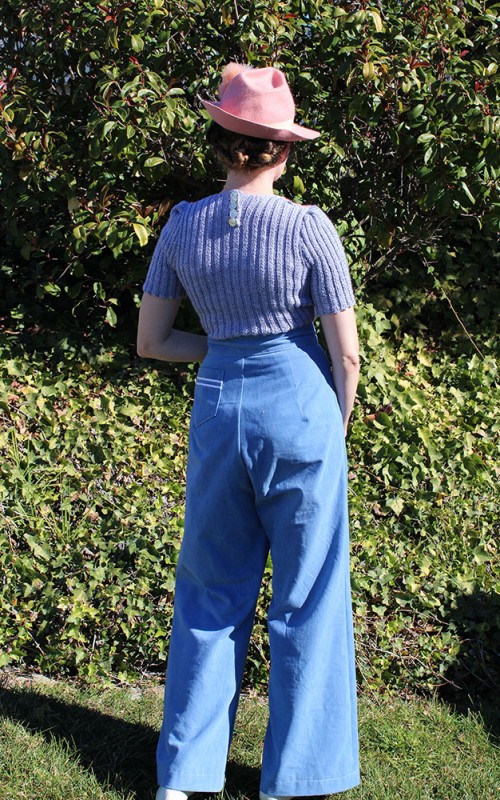 Saggy butt, wonky back length gives me a roll at center back.  I guess I should revisit these, but they sure are comfy as-is.  Like wearing pajamas!  On second thought, maybe I don't care that much ;)
So, there we have it!  Two finished projects!  Yay!