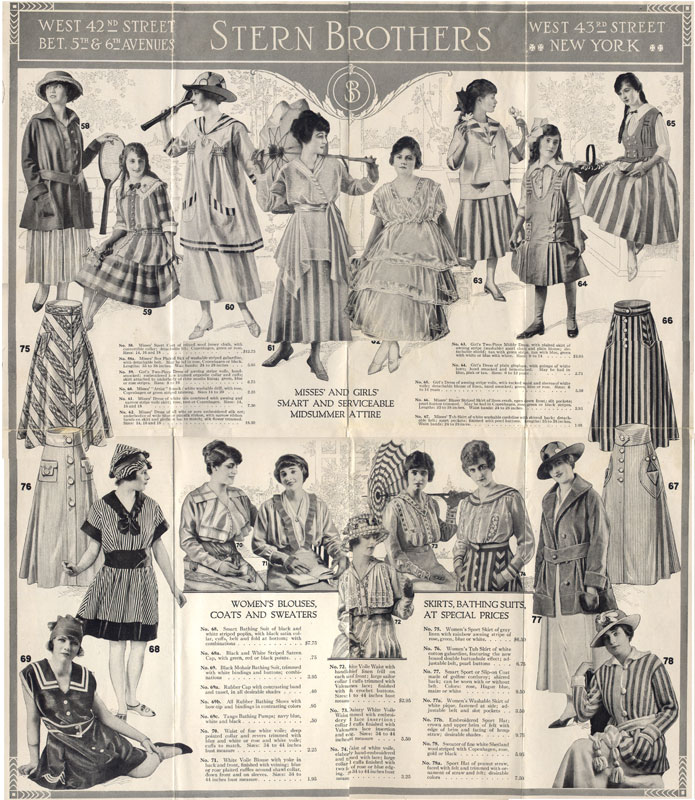 Hello!
First off, so many thanks for your sweet comments about our Queen Mary pictures a bit ago!  Thanks so much :)
I finally got around to scanning in the last of the Stern Bros catalog, so here's the final post!  It was kind of tricky to get this all scanned in- it opens up quite large (well, larger than my scanner, anyways) so it took a bit of fiddling to piece it together. Not perfect, but you get the general idea.  If you missed the prior posts you can see them here and here.
I know I've said it before, but I *love* this era.  It's so silly and fun.  Stripeys! Swimsuits! Funny hats! Love it.  Here's a few of my favorites from this big open page.
Swimsuits with stripeys or sailor style, complete with silly bathing hats.  Fun!
Yummy stripey sweater with big buttons and BIG tassels, dainty insertion lace on the blouses, a fun oversize jacket, a stripey parasol, and the clever use of stripes and pocket construction on one of these skirts. LOVE.
Have a lovely weekend!