Continuing with the Costume College finished project posts, I'd like to share with you my Edwardian lace dress project.  This was probably the most fun and creative project I have made since I made my Edwardian dress project from last year's Costume College.
I bought about 6 yards of this ecru wide cotton lace trim at the LA garment district earlier this year and ended up being positively inspired to construct a whole dress from this trim.  I wanted to somewhat mimic the feel of my original vintage lace wedding dress, but have this as a version I can wear to events and such without worrying about damaging an original.
Another trip the the garment district (I forget how many yards I ended up purchasing) and I started draping on my dress form the lace going in various ways until I came up with a version I liked and was simple enough to not be excessively busy.  I was inspired, in this case, by the simple elegance of many early 20th century all white dresses.
At first it took on somewhat of a 1930s feel. I had initially meant to leave it straight and do inset gores of lace, but after running out of the length and seeing that it would make the skirt too narrow and later looking than my original plan, I dug around in my stash and came out with some old eyelet embroidered cotton which was used as the insets on the front skirt.
To shape this to the figure I cut into the lace and applied it on top as appliques- similar to clipping out darts for shaping.  The whole dress was constructed with a wide zig-zag stitch, with edges abutting, and overlapping the cut out applique, as just mentioned.  It was actually not nearly as finicky as I thought it would be, as the lace was quite substantial.  In retrospect I wish I had taken construction pictures, but hopefully you can imagine what I am describing as I used up nearly every square inch in this project!
The insets of the lace were trimmed away to taper to a point and them applied the same was as the dart-like shaping, tapering from the full width to a single flower at top.  The two front insets are long rectangles which were run with several rows of shirring at the top and a cut out flower applique hides the raw edges at the top.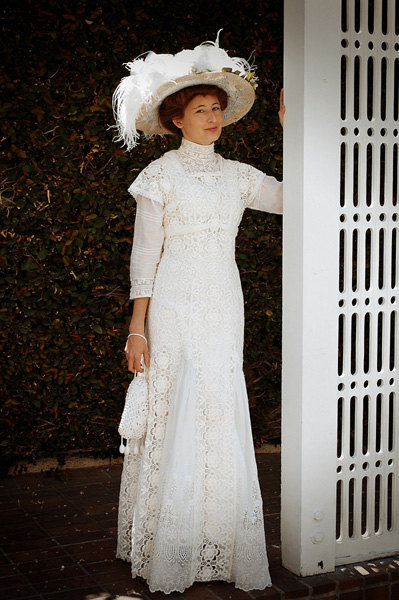 I wore this with my Edwardian hat I made several years ago.  I still love this hat- it is so fun to wear!  Under this dress I wore an original vintage blouse.  I had originally wanted to make a new reproduction blouse but ran out of time.  I did like the overall effect with the vintage blouse, though!
Many thanks to Jennifer from Historical Sewing, who had me as a model for her "Dressing the Silhouette" class at Costume College this year.  Since she signed me up for Edwardian it gave me the extra push to make myself a new pretty frock!
Also, many thanks to Jen of Festive Attyre for taking these photographs for me!