> Actually sewing something for myself. The Folkwear Walking Skirt is done with the exception of a hem and the 1890's Sporting Jacket from Laughing Moon has been started. Here's the pic! It's lined in a cotton calico. The fabric is all wool and was $2 a yard in the garment district! I really like the way the pleats came out in the back :)

I have some more to show for the 1890's jacket. I'm quite pleased! It's a really neat pattern and I like how easily it goes together, even if there are quite a lot of pieces. The pleating wasn't nearly as hard as I thought it would be. The hardest part was getting the point on the collars flat.

Jacket's nearly done! It has sleeves, it just needs to have the hems finished, the buttons sewn on, and the hooks and eyes done.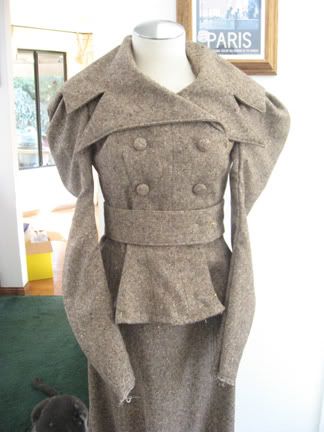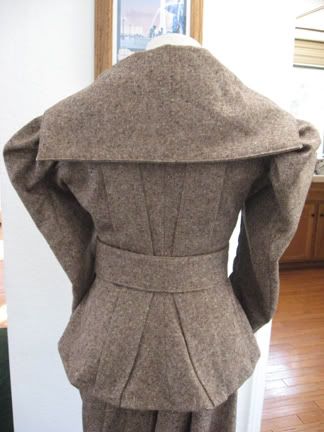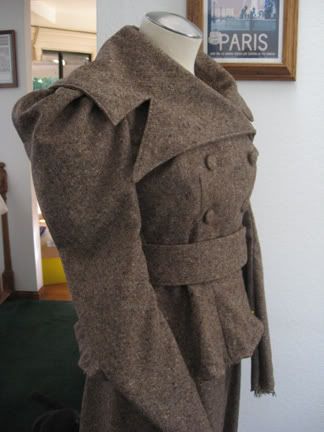 I just finished the Folkwear Schoolmistress Shirtwaist.
It sucks. It looks fine, I guess, but it doesn't really look that period. It's funny, the reviews on the GBACG site are good- maybe it's just me (which happens now and again). The collar was much too small for the blouse and I ended up having to double the front plackets over to make it fit. The notches on the sleeves are a joke- they didn't match up right at all so I ended up making up the sleeve placement. Other than that, it was pretty darn easy. I don't like how small the collar band is. But it will do it's duty, I suppose. It's in the wash now so I can get the marking pen out before I sew the buttons on, just in case the old buttons rebelled against the washing machine, then I'll take some pics of it with the suit.
Here's pics of the outfit I made, and even *gasp* underwear! Not at all matching, hillbilly plaid flannel, but they'll keep me warm.

Here's the Schoolmistress's Shirtwaist from Folkwear. Still didn't get the sleeve drape right, but oh well.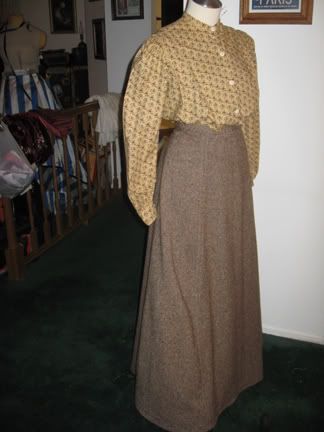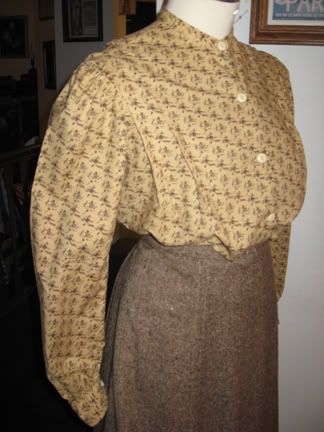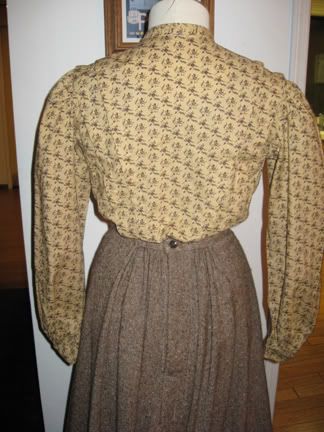 And here's everything together :)