I have a huge stack of La Mode Illustrees.  Like, a HUGE stack.  Most of them I bought when I was lucky enough to go to the Paris flea markets almost ten years ago.  I saw them sitting there in a pile with their pattern sheets, and asked her "How much are these?" and she said, "25 euro."  "25 euro each?"  "No, 25 Euro for all."  So, like any sane person, I grabbed them gleefully, forked over the dough, and RAN.  I spent the whole train ride back to England to visit friends looking through my precioussssss.
Anyways, this dress started as a Thanksgiving dress for my little girl.  But, since I start things too late, it just ended up being a general fall dress.  It wasn't finished until the week after Thanksgiving!
This came from an 1890s issue of La Mode Illustree.  If you're unfamiliar with them, these are antique french fashion magazines that sometimes had pattern supplements (and sometimes not).  The pattern sheets are full of overlapping pieces.  Kind of like, how I'm told, modern Burda magazines are.  They have no seam allowance and you often have to draft some pieces from them.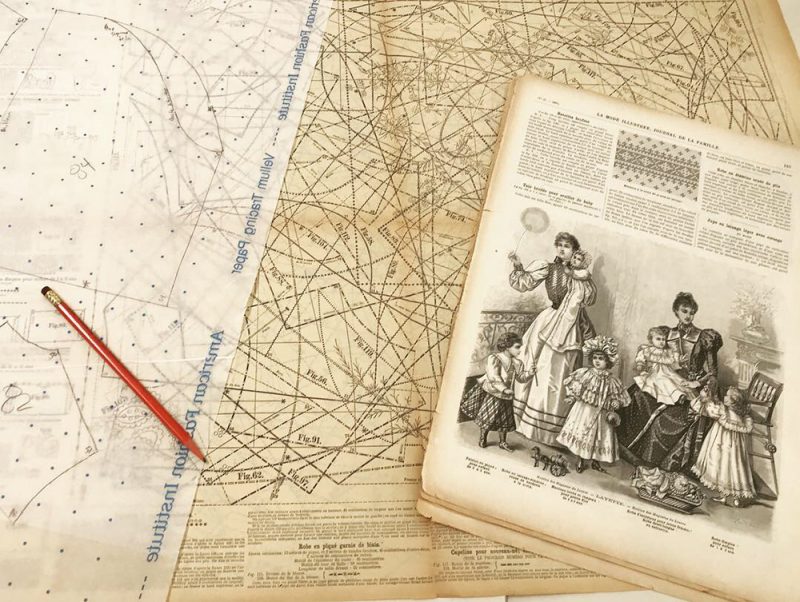 Here's what the sheet looked like, as well as my tracing.
The little numbers in the corners are to help you see what pieces go with which other pieces.  They didn't use notches.
This is the dress I *thought* I was going to make.  For a girl age 1-2 years.
But, my girl is tiny, or vintage patterns run huge for kids (maybe both), so I ended up making this one:
Luckily for me, both of these patterns had the same descriptions, so I just traced them both off and measured them flat to compare to my girl's measurements, then got started.  For reference, my girl was in modern size 18 month clothes when I made this.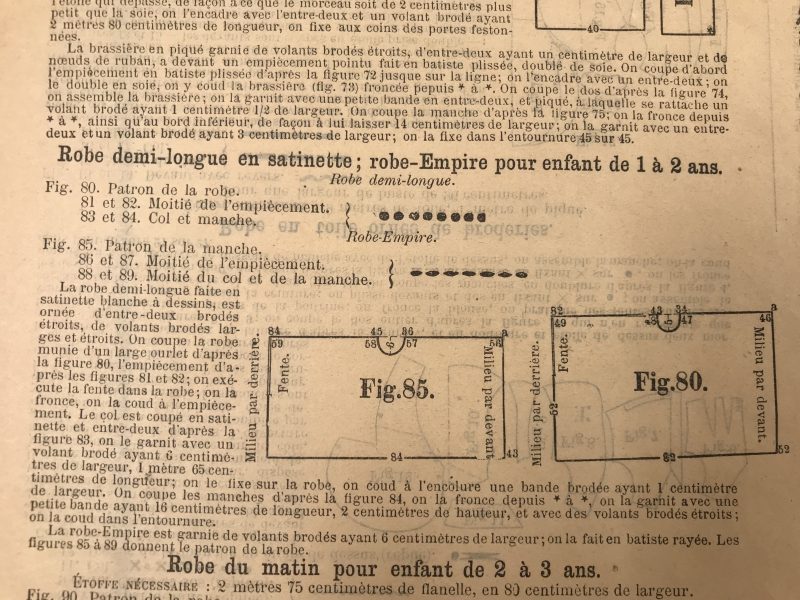 As you can see, it involved a bit of drafting.  I ended up using FIG 80, but the shorter skirt length of FIG 85 (the dress from 1-2 years).  The skirt was just too long for the baby dress.  I think I actually ended up shortening the skirt even more for the final version.
Like old patterns of this era, the pattern was vague, and didn't include ruffle pieces, but measurements.  This wasn't a big deal, since I'm used to working with old patterns.  But my rusty French and it's in centimeters instead of inches made me scratch my head a bit before I cut.
It was actually a pretty quick sew, once I figured out how I wanted to put it together.  I ended up adding soutache to the collar.  I tried to use a pintuck foot and it twisted the cording all over the place, so I went online and properly bought a cording foot, which will help me next time I want to try soutache.
There was one point where I was convinced I was making a 1980s pillow instead of a dress and questioned my life choices.
But I kept persevering and it was worth it!  My little girl looked very much like she could have been in the Road to Avonlea tv series when it was finished!
Is this a pattern you'd like to see available someday from Wearing History?  Let me know!