My favorite Christmas movie has to be "Christmas in Connecticut" with Barbara Stanwyck.  It's funny, it's witty, and she's got the BEST CLOTHES.  The jumper from the flapjack making scene has been on my wish list for ages, so I figured it was high time to make it happen!  I realized after this was done that I hadn't made myself anything 1940s in probably three years.  How did that even happen?  Obviously I need to do more vintage sewing!
If you're unfamiliar with the movie, here's the trailer:
And a short clip of part of the scene that inspired my outfit:
Fabric
To make this I first had to find the perfect gingham, which was difficult. I ended up with one from my local quilt shop, Fat Quarters, in Vista, CA.  They had quite a selection of gingham.  In the end I chose a 100% yarn dyed red and white gingham with about a 1/4″ pattern.  The fabric is really a bit too heavy, as I would have preferred a shirting, but I could not for the life of me find one in the right scale and the right fabric content!
The blouse was easy. I thrifted a sateen sheet the week before and it was the perfect crispness and hand to be the blouse.  And super cheap at just $5 for a whole king sized sheet.  I have enough left for another blouse, or maybe even a nightgown!
Pattern Drafting
To begin the pattern I dug through my giant stash and found a few that were decent bases, but none close enough to cut straight from the packet.  I ended up drafting the top.  Here's a comparison shot of my pattern piece compared with the original.  As you can see, the end piece was pretty much it's own thing with almost no resemblance to the original.
I needed to draft a pleat into the piece, as well as combine the yoke and front.  I ended up doing this with lots of slashing and spreading.  One of the most important parts was determining to have the pleat fall on the grain of the fabric, so the pattern would fold crisply on grain at the pleat.  I also needed to change the piece to have a 3″ opening at front, so the blouse could be visible.  The original overlapped at the front, forming a "V" opening.  In the end it was pretty much my own draft since it was so altered.
I also realized I only needed a front belt, as the original had a set on belt at back.  The original also had a slight "U" shape at the bottom, but in the interest of time, I omitted that feature.  I decided the best idea would be to make it a side zip, with the belt lapping over the zipper and fastening at center front.  It ended up working well!  I had been making so many 1910s things that I was totally overcomplicating the front opening until I realized that zippers were a totally period accurate "cheat".  I didn't need to make a front that snapped and hooked and eyed all different ways!
For the skirt, I simply used big rectangles of fabric.  I also made two long bias strips piped on one end for the decor at the front skirt.  These may have originally been pockets, but I hate front pockets.  They always make a tummy "pooch", and after I baby I don't need any extra of that!  So I have no in-progress shots of the skirt and the accents. It was quick and relatively easy, and I forgot to take photos!  I did hide a pocket in the side seam, since pockets are so useful!
The blouse was made from a vintage Dubarry pattern. If you check out my Instagram, I have a feature that shows me making it in one day!
Finished Dress
I wore the finished dress to a WWII themed Christmas Party this evening! I'm so proud of myself for blogging the SAME DAY!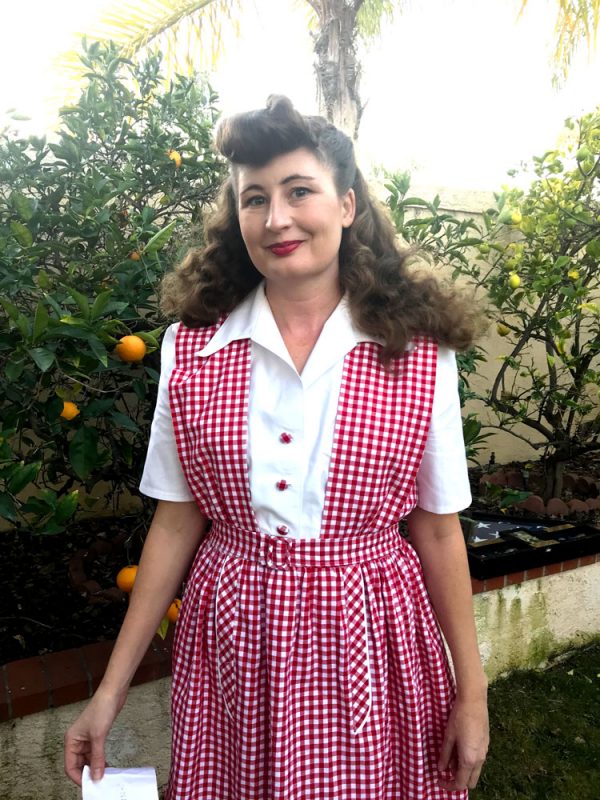 And a few with my little girl, who was wearing a dress that was mine when I was a little girl. I'm pretty sure that counts as "vintage" now!
In the end, although it's not exactly the same, I feel like I got the right vibe, and I'm SO EXCITED to add this dress to my wardrobe after all the years I've wanted it!