"This pattern is from 1908."
"This pattern is from 1919."
"This pattern is from 1899."
We have all seen it.  We may have even said it!  But is that old pattern you've got *really* from when it says it is?  How can you know?  Hang on there, and we'll talk about now to navigate the world of patterns and patents.  To be clear, we're tallking here about patents in the United States, since that's where I live and what I know about.
What is a patent?  And how is it different than a copyright?
A patent is a form of intellectual property that's often related to inventions.
So, let's say you've invented a cool new sewing tool that attaches to a home sewing machine that can sew buttonholes and cut buttonholes all in one go.  (If you have, can I buy one?) . That invention could be protected by a patent to be sure that joe-next-door-who-spies-on-you or sally-who-saw-your-street-fair-booth doesn't come in and swoop up your idea.  Usually old patents included a technical drawing and a description.  As long as the patent is in force your new invention or technology is protected and you can follow legal action against anyone who tries to steal your thunder.  For patterns, this could have been a form of punching perforations, printing on pattern pieces, including illustrated instructions, including cutting charts, or any other type of thing that at one time was not the standard in the home sewing pattern market.  The invention of your patent could protect any number of works made using that technology while the patent was still in force.
A copyright is a form of intellectual property that protects artwork, literature, music, or other types of creative works. 
(Side note- we are NOT going into copyright specifics here because it's a big, lengthy topic, and I'm not going to offer legal or personal advice on anything to do with patterns and copyrights.  I just want you to know what the difference is between the two for dating purposes)
So, for example, an advertising poster for a pattern company, a layout in a magazine of pattern designs, cover artwork, or other things that are specific to an individual artwork design or written text.  Most vintage sewing patterns did not have a copyright date before the 1950s, except for McCall, who included them from the invention of the printed pattern (which was patented).  Simplicity started including copyright dates in 1939.  Copyright dates are accurate ways to date sewing patterns, IF the sewing pattern included the information either on the cover or instruction sheet because that information was pattern specific (sometimes it's on one or the other, sometimes on both).
How long did a patent last?
According to Wikipedia:
For patents filed prior to June 8, 1995, the term of patent is either 20 years from the earliest filing date as above or 17 years from the issue date, whichever is longer.
Ok, so let's look again at that pattern that's patented 1908.  Here's one from my collection:
Now let's see what suits looked like in magazines dated 1908:
Hmm… just a little bit different, right?
That's because the pattern does NOT date to 1908.  The pattern was PATENTED 1908.  Using the information given above, the suit could be anywhere from 1908 to 1928!
Same with a pattern with a patent date of 1899, as some Butterick patterns have.  The pattern could have been anywhere from 1899-1919.
What about those Butterick patterns patented 1919?  They could be from 1919-1939.
Ok, so the dates are within 17-20 years.  What do I do next to date this pattern?
Go to period sources and do a bit of sleuthing.
The next step is to see if you can find it in the original period source material that would be dated.  For patterns, this is usually a magazine or catalog.  Pattern companies were either owned by or worked in conjunction with magazines.
McCall's used McCall's magazine to advertise.
Butterick was in the Delineator.
Vogue was in Vogue Magazine.
Things get a little tricky with Ladies Home Journal magazines.  They originally had Ladies Home Journal patterns, then they had Simplicity patterns, then they had Hollywood patterns, and then I'm afraid my interest wanes and I'm not sure what happened in the 1940s and later.
So, let's say we're looking up my pattern- McCall 9731.  Since I know my history, the lines look late 1910s to me.  I'm going to start around 1917.  So I'll plug in "McCall 1917 fashion" into Google images and see what pops up.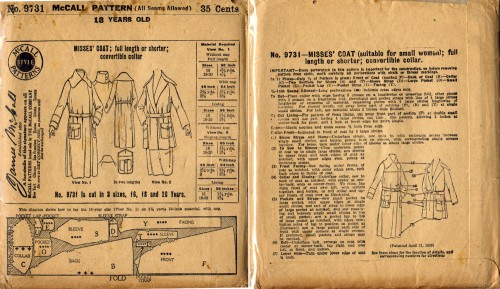 Looking at images, the fashion drawing will have a little four digit number next to it.  That's the pattern number. NineteenTeen has some images from 1917 McCall's magazine on her blog and I see pattern numbers are in the 7000s.  Nope, too early.
Let's try 1918.  Pattern Vault (an AMAZING blog that I drool over), has images from January 1918.  Pattern numbers are late 7000s to early 8000s.  Still too early!
Let's try 1919.  Apparently, the lovely bloggers who share source material aren't as keen on 1919 as there's little out there!  I see one on the McCall's Patterns blog that lists numbers in the 1500s.  So we're too late!
Even just based on this information, we can find the pattern dates to between 1918-1919.  It's a far cry from the 1908 patent date!
The ultimate pattern nerd moment, is, of course, finding the original pattern being mentioned, illustrated, and described in a magazine or catalog.  Bliss!
I want to geek out even more!
Sweet! Me, too! And the free information online will help!
I love Butterick patterns because many Delinators are available for free on Google Books and you can often date the pattern by searching "delineator" plus the pattern number in the Google Books search.
You can also search Google Patents for patents related to sewing pattern manufacturing. It's fun to see the invention of things we take for granted today.
Here's the patent for the McCall Printed Pattern.  This explains why Simplicity started printing patterns in 1939 but not before.
Here's the Butterick patent for cutting charts. We take these for granted now, but cutting charts were not standard!
Hope this helps you date some of your pretties.  And help you when you're shopping for a specific time frame to chose the right thing!