This is an exceptionally tardy post, as this year is already nearly a quarter over, but I'm finally posting my 2017 year in review!  I've found these blog posts very useful when looking back on what I accomplished.
2017 was a challenging year for creative endeavors.  I started the year with a one and a half month old baby, and we've survived the baby year and into the toddler years, which is celebration in itself!  I've had to learn that my creativity has taken a bit of a place on a backburner out of mere necessity to survive those early days of having my own little darling.  We are still learning the balance of creating and mothering, but I feel like I'm starting to get a bit of my old productivity back- just in shorter starts and stops than the pre-offspring days. But because I've discovered how much I love sewing my my little girl, expect quite a bit of photos of her in my future creative endeavors.  Little clothes are so delicate and fun and quick to sew!
In March I learned hand smocking, and made my baby's Easter dress from an Old Fashioned Baby pattern.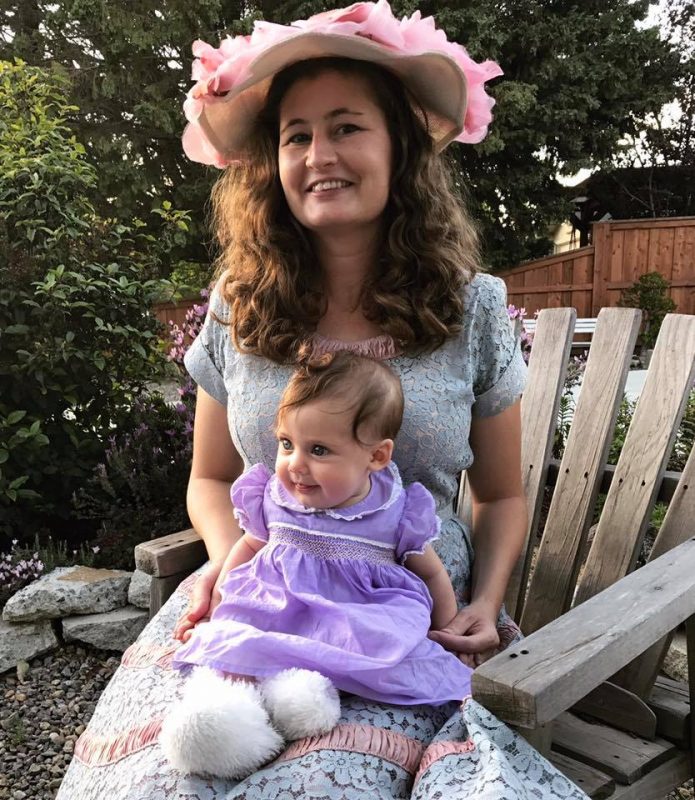 And finished!  My outfit is vintage.  I can't believe how tiny she was a year ago!
Also in March, I finished my samples for my first pattern release of the year- the Gina 1930's Dress.  I made one sample and one in my size.
Over the next few months I made myself a few 1950's things for my wardrobe-  a surplice dress from hand painted fabric I got from my friend, Ingrid.  I made a 1950's blouse inspired by my Grandma Norma for a trip to Missouri (where she was born), and I made a summery 1950's peasant top.  I also found that I require a LOT of alterations for 1950's patterns to fit me correctly!  These were all from vintage patterns.
I made myself combinations from my 1917 Combinations and Chemise pattern.  I'm teaching this as a workshop for Costume College this year!
Then I made my baby a hand sewn shift and cap for an 18th century event.  But we never made it to the event.  She still looked darling in it! These were from a Kannik's Korner pattern.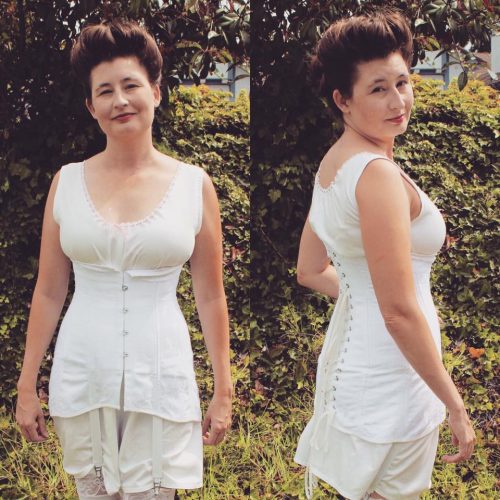 In July I made the Scroop Rilla Corset– a 1910s era corset.
In August I made myself a 1939 dress in a fun tropical rayon for the Queen Mary Art Deco Festival.
In the fall I made her two fall themed little dresses.  These both from Pepper by Violette Field Threads.
And I made myself a 1920 coat!
And for Halloween I made myself a kitty cat skirt and her a tunic with cats and pumpkins. No pattern used for my skirt.  Her top from Amelia Baby Top by Violette Field Threads (which I don't recommend if your baby has a big head.  I had to redraft it snap up the back).
But my favorite thing I made all year….
Was my little Flower Fairy!  I made this from a ton of tulle, a giant foam flower, and foam leaves.  It was SO MUCH FUN!  And she was adorable- just starting to walk in a big poofy skirt!  This was self drafted.
In October I made myself some overalls and a blouse (both 1930s patterns), and I also made her birthday dress.  This is from Charlie from Violette Field Threads.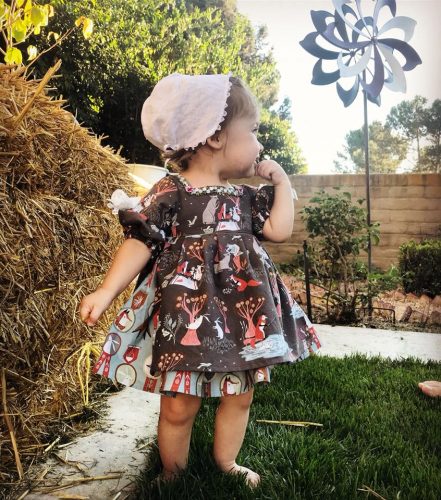 and in November I made her Thanksgiving dress, and she finally wore the little cap I made.  The dress from Nora from Violette Field Threads.
In December I made her a little Christmas robe.
A Christmas mouse.  Pattern by Noialand on Etsy
Two stocking patterns (my husband designed and made the buckle boot!)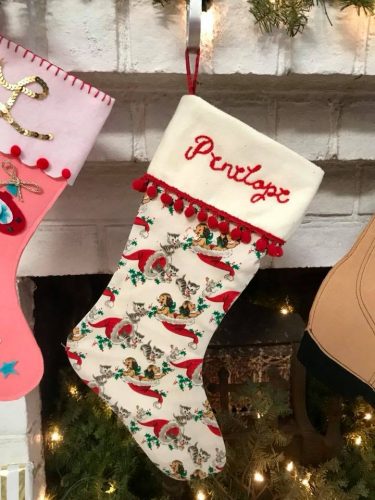 My baby's Christmas stocking
And her Christmas dress and pinafore!  Dress a mash up of vintage and modern patterns, and pinafore is the Pearl from Violette Field Threads.
Wow!  I did a LOT more than I expected!  Lots of little fast, easy projects, but they sure added up!
We will not, however, even begin to talk about the things I started and never completed… ;)