A while back I was contacted by Eshatki to do a product review of one of their dresses.  How exciting!  It was fun to pick out a cute dress from all of their online offerings.  It was a hard choice, but I settled on the Contrast bow-tie A-line dress.  It has a definite vintage vibe, but I felt like I could wear it easily in normal day to day life.
I wore it for the first time yesterday, to Easter service at my church.
On holidays, and in general everyday life, I tend to mix and match vintage aesthetic in with other elements.  My outfit yesterday was composed of "modern" hair (I hate curling it!), a 50s brooch, 50's eyeglasses, and vintage 40's hat and shoes.  I felt cute but not out of place at my church service :)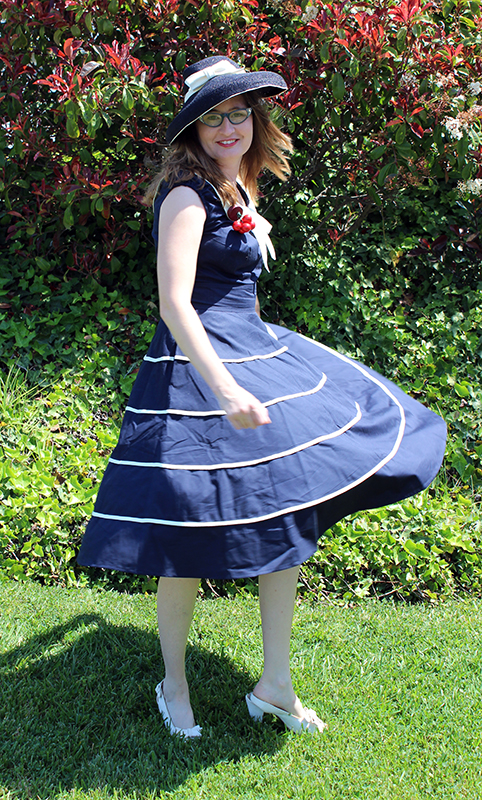 It has lots of "swirl".  You could easily wear a crinoline under it if you wanted to!
The cute white trim is applied strips of fabric. Love that detail!
Full skirt!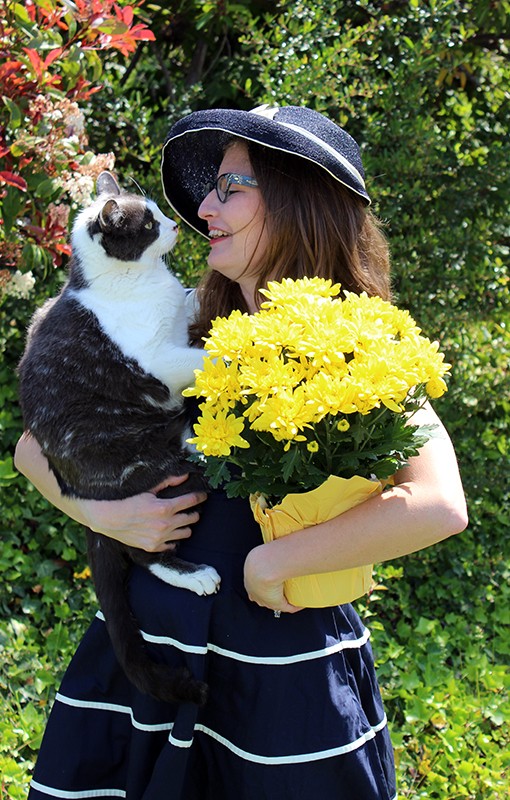 And a picture with my kitty and the flowers they gave away after my church service :)
Here is the description from the E-Shatki Website:
Color: Navy blue/cream

A banded high waist heightens the figure-flattering silhouette of our cotton poplin dress with a contrast wide Peter Pan collar and feminine bow-tie, and a flared skirt with contrast piped stripes.

Slips on over head; partial side zip closure.
Dolman cap sleeves, partial elastic cuffs.
Bodice darts to shape.
Side seam pockets.
Below knee length.
Cotton, woven poplin, pre-shrunk and bio-finished, light crisp feel, no stretch, midweight.
Machine wash.
I am above average in height with a pretty short torso and longer legs, and this dress fit pretty well on me!  In fact, it was one of the only dresses in a while that has fit right out of the package.
Overall the quality is really, really good, especially considering the price point of dresses on their site.  The fabric is cotton poplin, which feels casual enough to not be super dressy, but is dressy enough to not feel too casual.  It's a good choice for something easy to care for, but still polished looking.
I ordered the size 6, which, in their sizing, is Bust 35″, Waist 28″, Hip 38″.
Just out of curiosity, I measured the bust flat, and it is just about spot on at 35″, without much wiggle room there.  It looked fabulous, and I love the fitted look, but the armscyes did rub on me by the time the church service was over, because they were cut pretty high and the bust was so closely fitted.  The elastic on the sleeves did restrict movement as well.  And just a matter of preference, but since this dress is so stark in contrast of the off white and navy, I wish the bias facing on the inside of the dress where the collar attaches was the same color as the collar, because the navy could be seen a bit at the neckline.
Eshakti is a company based out of India who offers cute dresses and separates, some with a vintage vibe.  You can buy the dresses as they are, or you can get customization, including changing skirt lengths, adding sleeves, and changing necklines.  It's actually a great option if  you're in need of bridesmaid dresses for gals of different sizes and style preferences!  They have both misses sizes and plus sizes.  The dress I reviewed did not have any customization done, and is exactly as the dress appears on their website.
They have lots of really cute dresses up on their site right now!
Here's my little disclosure:  This review is my honest opinion and was in no way influenced by the free product given to me to review by Eshakti.  I give my honest, personal opinion in this post.