Christmas snuck up on us this year, and a few days of frantic present making began and ended before I had a chance to blink!
Every year I try to make something… be it sewn, knitted, or baked.  This year I had high hopes of making many more gifts than I actually accomplished, but I learned a good lesson.  Husbands are patient, and often enjoy the mystery behind what goes into making things, but I would rather spend the last few days before Christmas relaxing with him than running circles to get things accomplished.  Here's hoping by next December (or earlier) that I remember this.
If you're already following me on Instagram, these photos may look familiar to you, since I posted them as I went along :)
– – Sewn Gifts Accomplished – –
I purchased a few patterns from MJs Vintage Patterns on Ebay.  She offers reproductions of vintage toy and children's patterns that are printed on 11 x 17 paper.  Some require taping together.  I had looked at her patterns for a long time, so was exciting I came up with an excuse to buy some!  I LOVE them and will totally be visiting her shop again.
-2 Sewn Dauchunds, the velvet from a thrifted dress (nice rayon/silk velvet for $5.99.  Great for fabric!), the other of floral quilter's cotton.  My step mom and her sister are the biggest Doxie lovers I know.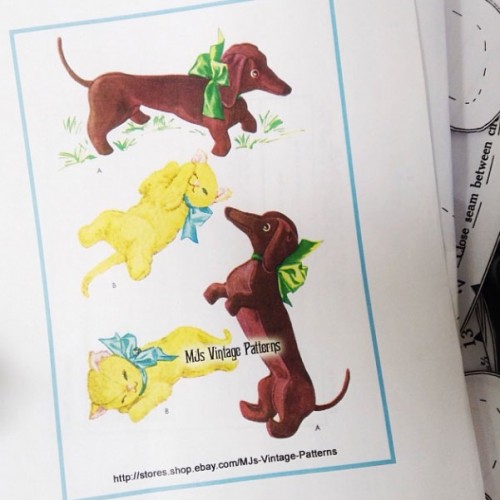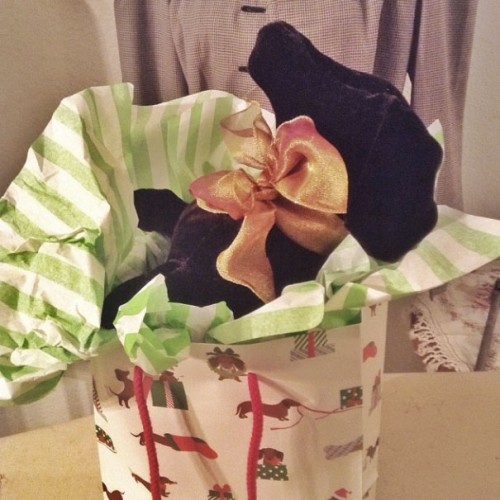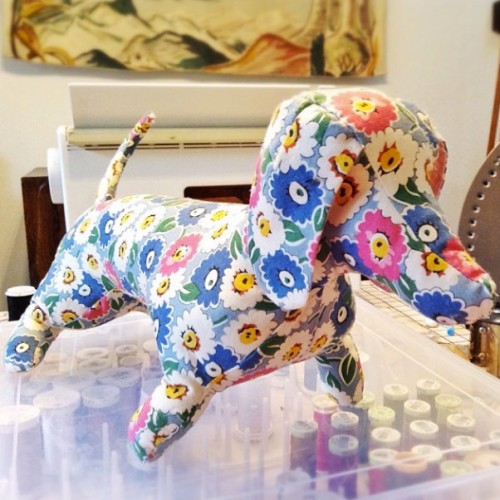 1 sewn sleeping kitten for my aunt, from the same reproduction 1950's pattern as above.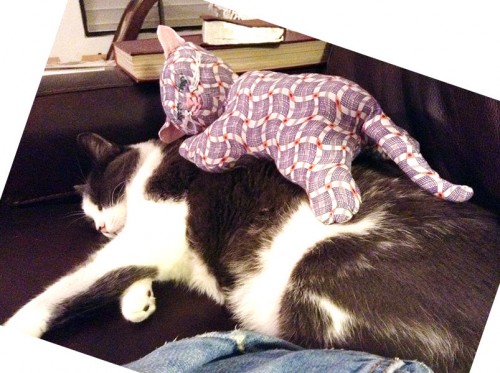 1 sewn crazy cat from a reproduction 1930's pattern for my mom.  The fabric was a gift from Chris of the Wacky Tacky blog.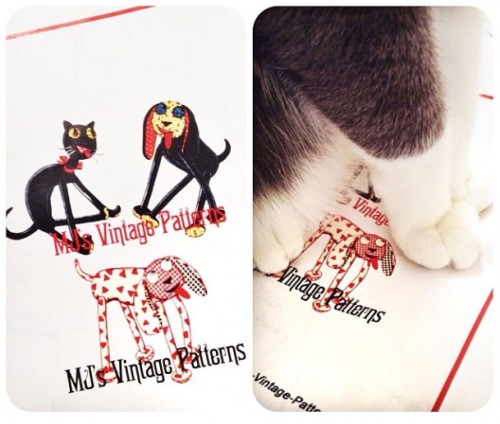 2 pairs of pajama pants– one for my cousin, Craig, the other for my cousin, Allison.  No pictures, unfortunately, because they were finished at about 10pm on Christmas Eve!
– – Baked Goods & Sweet Stuff – –
-Ricciarelli cookies (via Nigella Lawson- recipe on this blog).  This is the third or fourth Christmas I've made these, but this time I tried piping them a la French Macarons instead of shaping them as described in Nigella Lawson's book.  It was much easier and less messy, but they just aren't the same.  Maybe back to the old way next year.
– Earl Gray Tea Cookies (via Martha Stewart).  These are yummy, and another holiday staple from my kitchen.  The taste of Earl Gray with the consistency of shortbread.  YUM!
– Brown Sugar Shortbread from one of my grandmother's newspaper clippings.  Most of these got eaten up before making it to Christmas morning, but my bestie, Beth of V is for Vintage, got some brought to her house the week before Christmas.
–English Shortbread– the second year I made these.  Definite crowd pleaser.
-Banana Oatmeal Chocolate Chip Cookies- these were a failure.  I don't remember where the recipe came from, but I threw out the print and didn't like the cookies.  Too cakey, not my thing.  They didn't pass the test of two other taste testers, either.
-Oatmeal Chocolate Chip Cookies- again, I don't remember the recipe, but these were just ok.  Boys liked them.  They were a bit too heavy on the butter, so greasy.
-Homemade Vanilla Marshmallows- I saw Casey did this a while ago, so I had to try!  Way easier than I thought.  I did learn two things.  First- the time between the sugar water mixture having a "thread" and it boiling into a crazy mess of crystalized sugar is super short.  When it's got the thread, it's good. Don't over think it or you'll spoil the sugar and have to start over. Boo.  Secondly, lay it on a flat surface that's dusted with sifted powdered sugar.  I tried it unsifted and it was a clumpy mess.  In a pyrex, and they're impossible to cut and handle.  Flat surface works best.  From a vintage recipe (probably 1910s to 1920s).
-Homemade Peppermint Marshmallows- just used the recipe above and substituted mint for vanilla.  Careful, though- mint is strong stuff, so a little goes a long way!  Mine were a bit too pepperminty.  I learned NOT to put the food coloring in when it's in the mixer, as it makes it pink (oops!), but drop it on to the marshmallows after they're laid out flat, and pull the food coloring through with a knife.  They were a little pink, but it worked out ok!
–Wellesley Marshmallow Fudge– a total and utter failure.  I tried two times with marshmallows, two without.  Then I found, in other period sources online, that the marshmallows are meant to be folded in but NOT melted.  Well… so I tried again, a plain batch, to make sure it set pre-marshmallows, and it failed, too.  I'm still determined to get it right, though!  My dad says that my grandfather, who I never met, made amazing fudge.  It's got to be in me somewhere, genetically!  I'm now completely fascinated with the origins of fudge, but I'll have to share that in another post, after I master it.
That's my Christmas gift roundup!  Hope you had a wonderful holiday!