I think I've mentioned it on here a few times, but I've been dealing with some health issues pretty regularly since Spring of this year.  I count myself fortunate because they're not something major- like nothing I will need surgery for or anything that is life threatening- but we've pinned most of them down to allergies.
I've never been aware I have had allergies, and now I'm wondering how long I've had them- and how many of my frequent "colds" in years past, that never fully morphed into full blown sicknesses were really just my body fighting allergies.
Well… yesterday I had official testing at an allergist.  Once we figured out what I actually am allergic to we can start figuring out the plan of attack to get me back to functioning 100% all the time.  Some days these little buggers wipe me out completely, and as a result, I've been much less likely to be as dependable as I was in years past.  Until I had to report for work regularly, as a matter of fact, I wasn't aware of how much this really did affect me and limit me- so I'm glad I've got the consensus so I can start working on a resolution.  Unfortunately, however, that job is about to end for me, just as we figured it out.
But the allergies I do have are tough to deal with.  Think of two things that, from reading my blog, you know I really and truly love.  These are among the things I've found I'm allergic to.
1)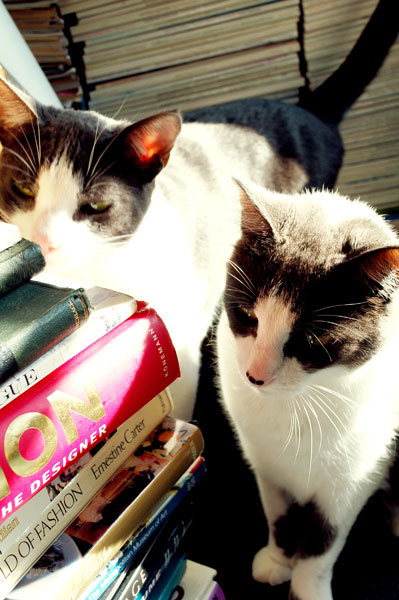 My darling kitties.  They're not going anywhere, but they both happen to be uber lovey.  The one on the right follows me around constantly, cuddles, and licks me all of the time.  The one on the left is my work buddy and nearly always is propped right on my lap in front of my laptop.
2)
Yup. I have a mold allergy.  Two of them, in fact.  But the one that affects me and my business the most is the one that's present in old paper products.  This means I have to be extra careful when I deal with the old patterns and look at the old magazines.  The problem is that old paper is my one true weakness.  I've hunted them down and collected them since I was a teenager.  But this new allergy means that I really and truly have to start counting through and listing the literally hundreds of vintage patterns I've set aside to sell.  And this also means I need to start tracing off copies onto new paper of the ones I love.
Unfortunately, this also most likely means that, out of necessity, I will eventually have to start listing again on the much dreaded eBay.  We will need to get new flooring, air filters, fancy vacuum cleaner, and pay for my weekly immunity boosting shots that look like they're going to be a regular part of my life for the next year.  And, unfortunately, some of the super awesome patterns don't fetch as much on Etsy as on eBay.  I hate going back on my word, as I truly hated my recent dealings with this company, but over time necessity will have to make me do some things I don't want to do.  Luckily it will be a good amount of time before I work through to that, so I don't need to make any definite decision on that for a while.
This does NOT mean that Wearing History Patterns are going to stop.  I got myself a new HEPA filter air mask and will wear gloves when dealing with old patterns, and this does mean that over time I'll be coming out with more Resto-Vival patterns, as I want to transfer these over to new paper that I can handle without an air mask when I want to sew up something.  When I do this, I can share the pattern wealth by releasing select patterns to Wearing History.
But Seriously?  Old paper???  And I just got three amazing bound year issues of the Lady's Home Journal that smell strongly of mold.  BOO HISS!  I had my suspicions  but it was sad to have them confirmed.
Oh, and another allergy that costumers can sympathize with….
FEATHERS!  Noooooo!  The photo above is of me at the Jane Austen Evening dance and was taken by Beth of V is for Vintage.  I love feathers.  Especially on hats.
So that's my news.  Now I'm just waiting for my regular sinus meds to kick in so I can get back to (somewhat) normal since I had to stop them for 5 days before testing.
*le sigh*