I've been a bad little blogger! I'm around, but I've been frantically working on some projects!
First of all, I finished up one of the two vintage gowns I'm making that I spoke about in the Hollywood Inspiration post.  The other one is all finished except for some trim.
Then I madly started making the new Truly Victorian bodice, TV403, the 1872 Vested Bodice.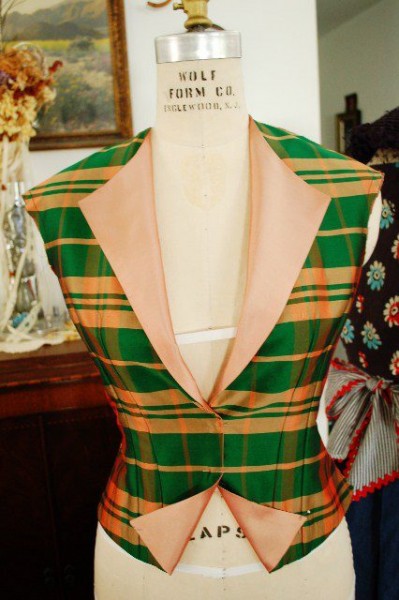 And because I'm just *that* crazy, I am making it out of a giant plaid.  But check out my skills of a plaid matcher- that's a front with two darts, a side piece, a side back piece, and a center back piece with a seam down the center. Next up is cutting the two piece sleeve.
I've also been doing crazy things like making neat little handstitches on things that will never be seen (not even by me) because it's sandwiched between two layers of fabric!
Here's hoping it actually gets done in time.  I've still got work on my classes I'm teaching to do, too! Eep!