Hello all,
Wow- it's been a while since I've checked in.  Things have been a little challenging here- but every day's a bit better. I'm dealing with allergies for the first time ever. So.Not.Fun. Everyone who deals with this regularly has my utmost sympathy! But every day's a bit better so I'm hoping to get things back up and running soon!
I wanted to let you know that my husband and I will be at this vintage/shabby chic sale in Fallbrook, California on June 1st and 2nd- that's just one week away!  We'll have lots of fun vintage goodies- household stuff, magazines, and other things.  Please do stop by if you're in the area, and visit The Vintage Marketplace on Facebook for more of an idea of what sorts of things are at this sale.  The sellers are all wonderfully creative, and there's a variety of things- handmade and vintage- to tempt you.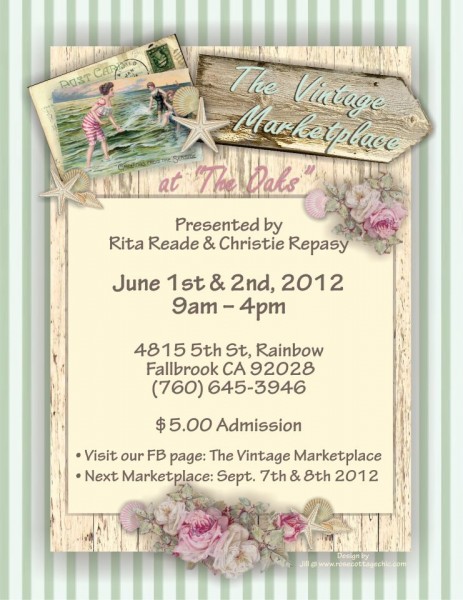 I hope to see you there!