Yesterday the San Diego Costume Guild got together for a costumed walk-a-bout of the Del Mar Antique show.  It very nice to get dressed up and see several friends I had not seen in a while, and it was great to talk to many of the attendees and vendors there, who were interested in our dress.  The show's great fun, too- more for looking than for buying for me, but we were awed by beautiful antique jewelry, furniture, and art.  Since it was the centennial of the sinking of the Titanic, the costume theme was Titanic era costumes and many costumers had amazingly lovely and creative creations.  It was an interesting way to pay remembrances to the historic event that happened on that day one hundred years ago.
Unfortunately, I wasn't sure if I was allowed to bring a camera in to the show (and it turns out I could have- will remember next time!), but I had my husband snap a few shots of my outfit when we got home.
It was quite rainy outside and a little chilly inside the building that the show was held, so on top of this outfit I had a vintage jacket from the 1910s.  I had been feeling poorly this week so wanted to make sure to keep warm! I do have some photos with the jacket and I will try to post those later.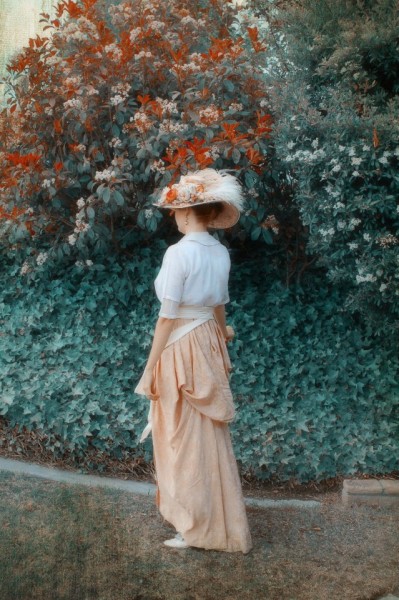 The blouse I wore was vintage from the 1910s era- cotton with lovely pink polka dots and cotton net collar edged in bias of the polka dot fabric.  The sash was made of about a yard of silk remnants I had in my stash.  The skirt was made from an original 1910s sewing pattern, which was quite a puzzle to figure out- Beth and I recently found it at a flea market and the poor thing had most of the illustration missing and was a mystery size.  The shoes were thrifted and I added vintage buckles to them when I wore them for my wedding a few years ago.  I made the hat by using old placemats and taking them apart for the braid and hand attaching them to each other using a base from a 1909 pattern reprint for a brim and then decorated it with vintage silk from an estate sale and new silk flowers from a craft store and new feathers.
Many thanks to Mari for letting us take part in the walk-a-bout at the antique show!  It was a nice afternoon spent dressed up with friends.