Hurrah! A finished yarncraftish type project!  I just finished up this new tam from a pattern from 1920!
My cousins were the crocheters in the family. We all picked up yarn-ish type crafts around the same time, and I went for knitting while they went for crochet.  I was was self-taught and may possibly be the world's slowest knitter. Not only that, but I think I  might have self-taught incorrectly!  Something about it, I can never quite progress past a certain level and I'm really easily distracted which when you add slow speed + big projects means that I seldom actually finish anything, and when I'm done it doesn't quite look how it's supposed to. I'm much more likely to start something, get bored and put it away, then get inspired by something else some 6 months later, frog everything and start over. Ha.  No wonder I've only completed a few projects!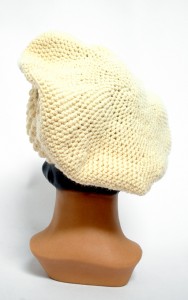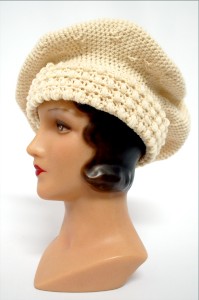 Not so with crocheting, however! I was inspired by my cousins, so picked it up when I was sick a year ago. I plopped down on the couch with a few old movies and a few 1940's "Learn How" books, and picked it up relatively quickly. I'm still pretty darn slow in speed, but for some reason it's easier for my brain to wrap around (har de har… wrap around…).  I've only finished a couple of projects.  I got entirely overly ambitious and went straight from crocheted circles in yarn to teensy little hook and size 10 crochet thread 30's blouse (which isn't even CLOSE to being finished and probably never will be)… but figured out I don't really like the texture of cotton thread and love the feel of yarns.  Isn't it funny how we're drawn to certain fibres/textures as creative types?  So I'm on the hunt for non-difficult, non-cotton thread clothing/accessory type projects to crochet.  And darn it, if most of the super cute stuff is either in teensy tiny cotton thread or for knitting! If anyone has any tips or pointers for patterns I'd love to hear :)
Sharing the goodwill, here's a freebie of the pattern dated 1920 that I used for the tam.  Maybe you can make up some for yourself or maybe even a few as Christmas gifts?
Click on the image above for a larger version of the instructions that you can save or print!
This pattern was super easy.  Why was it super easy? Cause I couldn't figure out what the heck the stitch was for the pretty band and made it up with a popcorn stitch instead.  Let's just call it "being creative" ;)  But I totally love it!  I also didn't realize that instead of decreasing stitches I was actually making raised stitches (which I'm now doing on purpose for another pattern).  For only my second hat from a pattern I don't think it's too bad :)  And it's nice and warm!  Maybe someday I'll even add the pom poms.