I had a lucky find of a huge lot of old catalogs a year or two ago, and this week pulled some out to revisit the "treasures."  Apparently, I had glazed over this one and not even opened the cover, so the contents were a complete surprise (or terror?) and I think are perfect to start the Halloween season.  My husband and I believe this catalog was from 1900, as that date was mentioned in a few advertising descriptions.  I'm posting some individual ads here, as many were not in the best of taste and quite socially unacceptable today, but a few might sneak in that aren't quite as p.c. as today dictates.  So, were those really the good old days?  If these were today some of these gadgets would most likely end in lawsuits!  Make sure you read the descriptions.
1) As opposed to this.  Mmm… Asbestos.  This one was so important it got a separate larger leaflet inside tucked inside the catalog.
2-  Frighten the tramp or burglar!  Or your wife and children… seriously, who thought this was a good idea?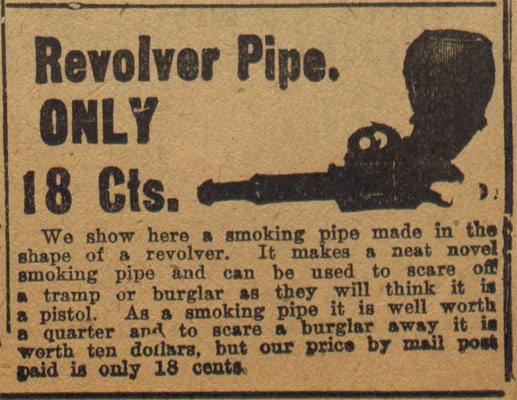 3- And you thought these were styled after Groucho Marx.
4- The mustache marketing craze was SO 1900.