> A conglomeration of all posts referring to this dress.
Vanessa affectionately referred to the dress looking like rainbow sherbet, so it's got it's name :)
Here's what's been occupying me the last few days. It's a natural form ballgown, and going to be made into a polonaise with ties that will release it into a full lenth gown. So this one's to go to ebay instead of the velvet one I started. It's just over my ballgown underskirt to demonstrate- the real will be off white. It's too large for my dress form (this will be just shy of a 40″ bust because I was a dork and forgot to add 1/2 inch seam allowance to one edge of the insert. Duh.
It's done with interlining on the top portion to the hip, and the boning's in, and the ruffle basted on- then I have a full lining all sewn and waiting to be put in. Then sleeves, fastenings, and ties and trim- so I guess I'm half way there!
It looks better in person. The flash makes the front look really ugly, but I'm hoping that with trimmings it will look better. The goal of this dress is to make it as floofy and princessy as possible- just for the heck of it- with what trims I have on hand since they won't work for the rest of the projects I've got. Then I HAVE to go to the garment district to stock up on trims ;)


Lots and lots of work today! The lining is all in, after having a horrid time pinning it in place, the sleeves are set and gathered, and I still figured out a way to keep the train but give the option of having it bustled! So here she is with all her various ways of bustling/tying her. Still have to trim it, for the most part, but the big part's almost done!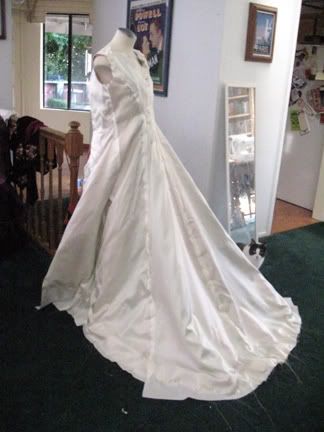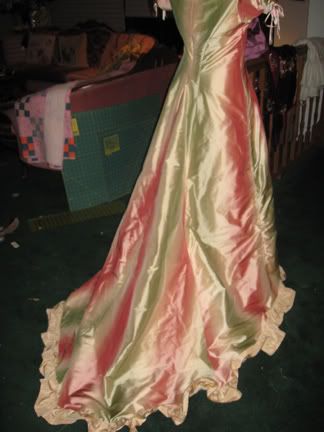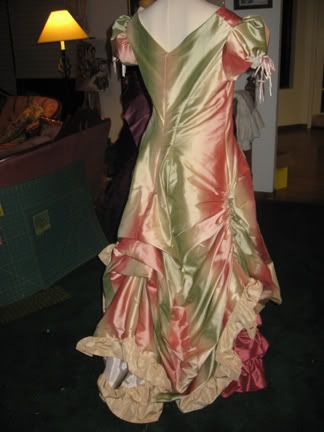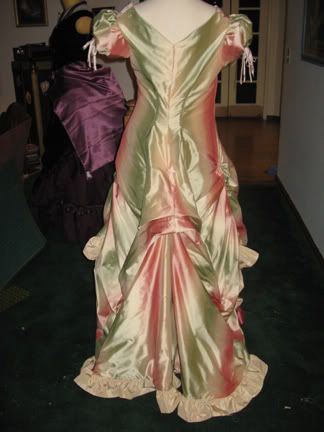 Started trimming. It's so cute it makes me want to poke my eye out.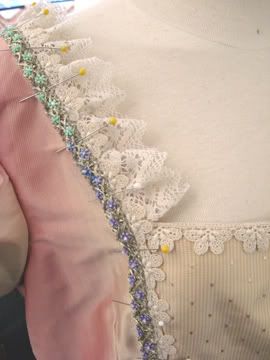 Phew! Top part is finished! The flash gives a really wretched representation of this dress, but you get the idea. Today was handwork day, and it included finishing off the trims by machine and hand, making bows, sewing hooks and eyes, and sewing buttons. But at least it's done. Tomorrow I have to make the underskirt, then it's done! The underskirt will be an ivory dupioni with a gathered netted lace at the hem.
Seriously thinking about adding a matching purse, tiara, and fairy wings if bought with "buy-it-now" And Vanessa and I have been thinking of titles… "Victorian Fairy Princess Prom Enchanted Dress" "Victorian Fairy Princess Goth Prom Dress" Oh, the possibility.
Next time I'm making something dark. I wish. Next I have wedding gown fabric for floofy bustle wedding dresses (no, not for me)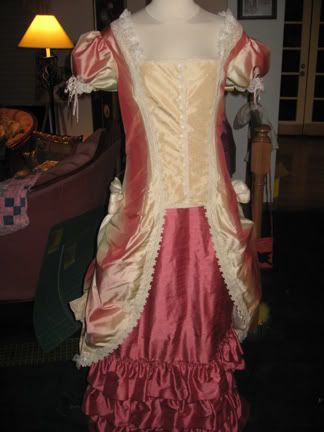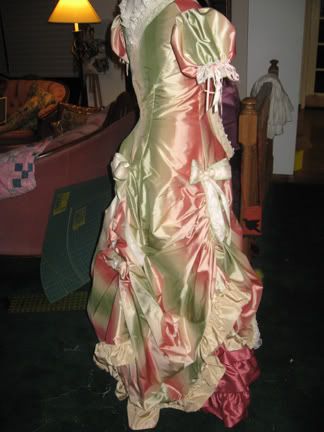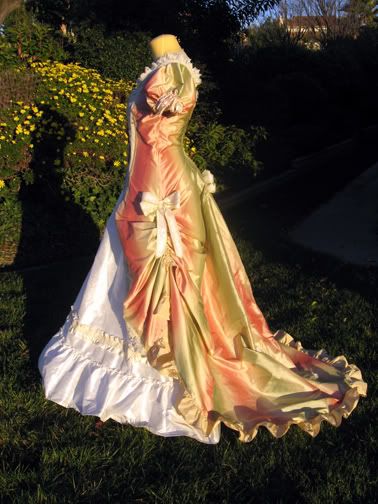 And All Finished!