A little tardy, but here's sharing one of my recently completed projects!  This is the dress I made to wear to the gala at Costume College this year.
For my gala dress I decided on a dress inspired by a few images I had seen.  One was an original period fashion plate (I'm sorry, I don't remember the source of the fashion plate image found online), and one was a dress in the collection of the Kyoto Costume Institute: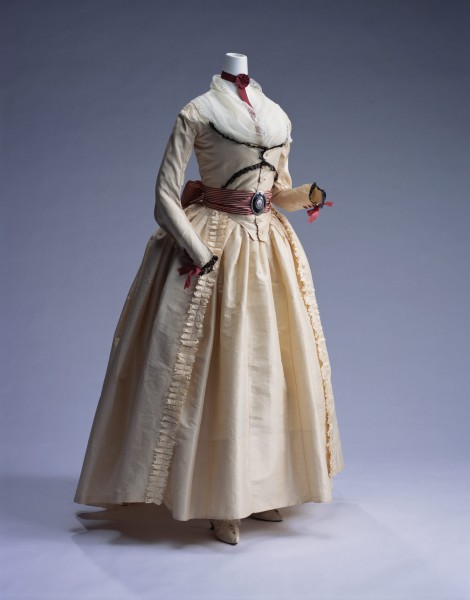 I had had a lovely creame and green striped silk taffeta in my fabric stash for a long time.  It was a lucky find for just $6 a yard, and I had originally expected to make it into something late 1860s, but then it called to me and said it wanted to be something 1780s instead.
I started with a base of a pattern from Janet Arnold called the Robe L'Anglaise a La Polonaise, circa 1770-1780 (I believe was the title).  I used this same base for my Curtain Along dress, so I needed very little fitting to get it to work right.  I altered it significantly, changing it to be more like the "zone front" look I wanted.
I don't have many progress pictures, as I was frantically trying to finish this dress in time (and had the help of my friend, Beth, with hemming in the hotel room!).
Cutting
After basic bodice assembly, before the contrast fabric.
Madly trying to pleat using my 1/4″ wide stripes as a guide.  It nearly made me cry, and it took all day, and it was all done by hand, but I did it!
Pleats finished on the day I wore it!
And finished garment shots:
A few pictures by the talented Jerry Abuan: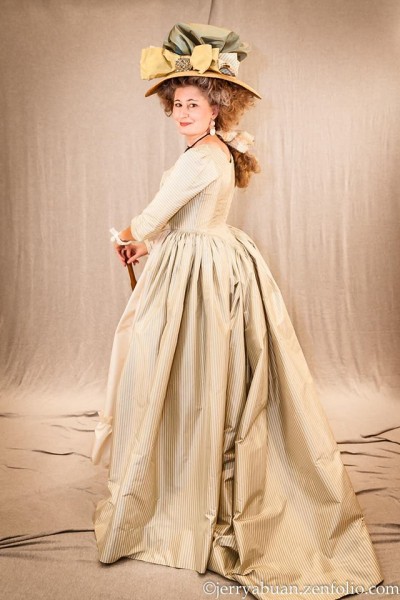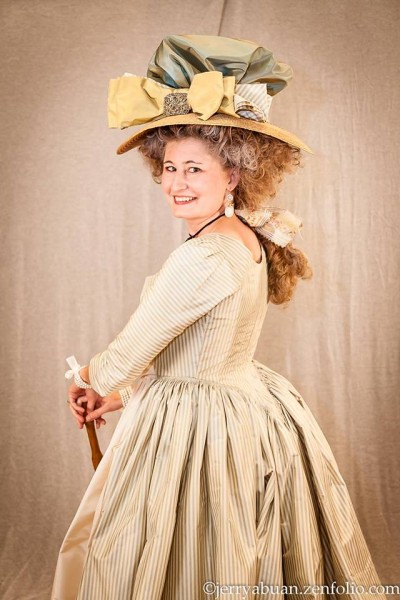 And one of my favorite shots of the weekend… this is Stephanie of A Star Spangled Heart and I leading our little group through the mall for dinner before the gala!  We did get some funny looks and comments, but it was fun :)
Leimomi (the Dreamstress) said quail was finished recently enough to meet the "Robes and Robings" challenge for The Historical Sew Fortnightly, so this is my entry for that challenge :)