We are back from Costume College!  Hurrah!  This year one of the big standout costumes for me, personally, was a gorgeous frothy confection of satin and chiffon and beads made by the talented Gina White.  I've been watching for months while Gina meticulously hand beaded each piece of this amazing gown inspired by Charles Worth.
Here are Gina (left) and good friend Marilyn (right) at Costume College right after our interview.  Gina made both of these amazing dresses!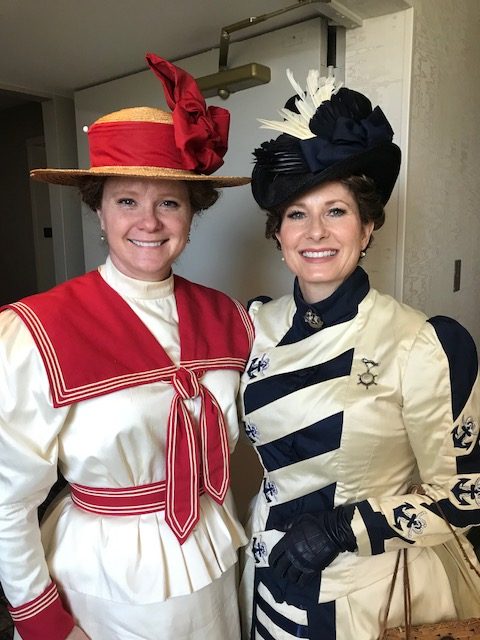 Gina is a long time costuming hero of mine.  She makes gorgeous and authentic looking garments from all over history, and she is the queen of Victorian gowns.  She does everything from wedding gowns to maternity gowns, to sportswear, to mourning, and has the perfect accessories to match.
Gina is a creative soul who knows how to cut corners and meet dreams with stunning results.  In this podcast she talks about her costuming, her fashion shows, and gives us tips on how to keep our costume dreams within budget.
Side note from Lauren and Gina:
We were in a Costume College frazzle, so when Gina said there were no costume events, what she meant was there were no gigantic costume events like Costume College (650 people this year!!).  There are lots of wonderful local costume groups and reenactment groups to go play with, which Gina enjoys thoroughly!
Also when we talked about silk vs. polyester-  Lauren wants to clarify that we think it's a wonderful thing to chose what you can according to your personal preference.  We did not mean to imply one was better than the other or the only way to go.  Gorgeous costumes can be made from silk or synthetic, or both!
A few more images of the lovely Gina in her creations:
Enjoy!
Find Gina:
Gina's blog can be found at http://beauty4ashes7.blogspot.com/
Gina's instagram is https://www.instagram.com/thehouseofwhyte/
Her Facebook page is https://www.facebook.com/thehouseofwhyte/
In this podcast we mention:
Costume College http://www.costumecollege.net/
SASS https://sassnet.com/
We Wear History costume group https://www.facebook.com/We-Wear-History-1422102244669750/
Gina dress pattern by Wearing History http://wearinghistory.clothing/mid-1930s-gina-dress-pattern/